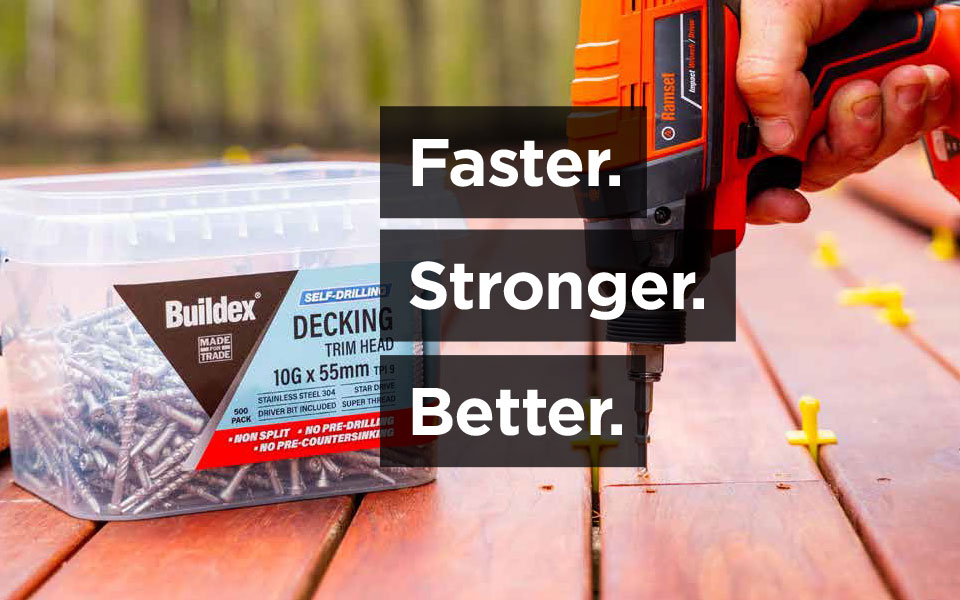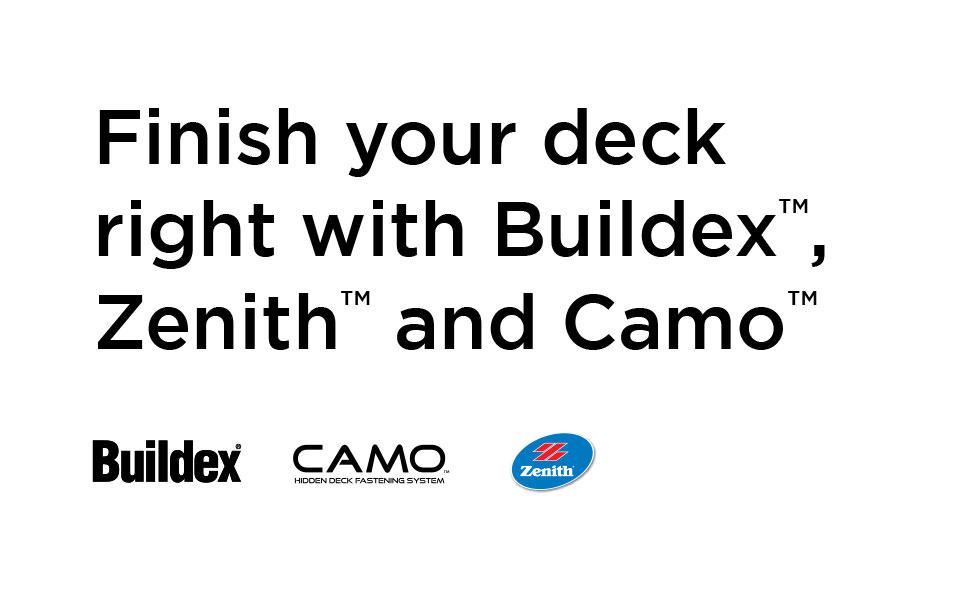 We are proud to make deck building easier by offering a range of premium decking fixings and fasteners that provide longevity, superior performance and are specifically designed to outlast the tough climate.
For a limited time only, we are offering the opportunity to receive 20% off a range of Buildex®, CAMO® & Zenith® Decking screws to support the peak decking season.
FOR A LIMITED TIME ONLY...
BUY 4 AND GET 1 FREE*

Here is how you can claim your offer:
Spend a minimum of $2,000 excl GST, across a range of at least 8 different products from our pre-selected range of 16 SKUs.
Promotion is valid from 1st September – 30th November, 2021 or while stocks last.
For more terms and conditions, click here.
We are actively promoting the range to build awareness and drive sales instore.
It doesn't stop there.
Convert your customer instore by utilising our selection of point of sale material.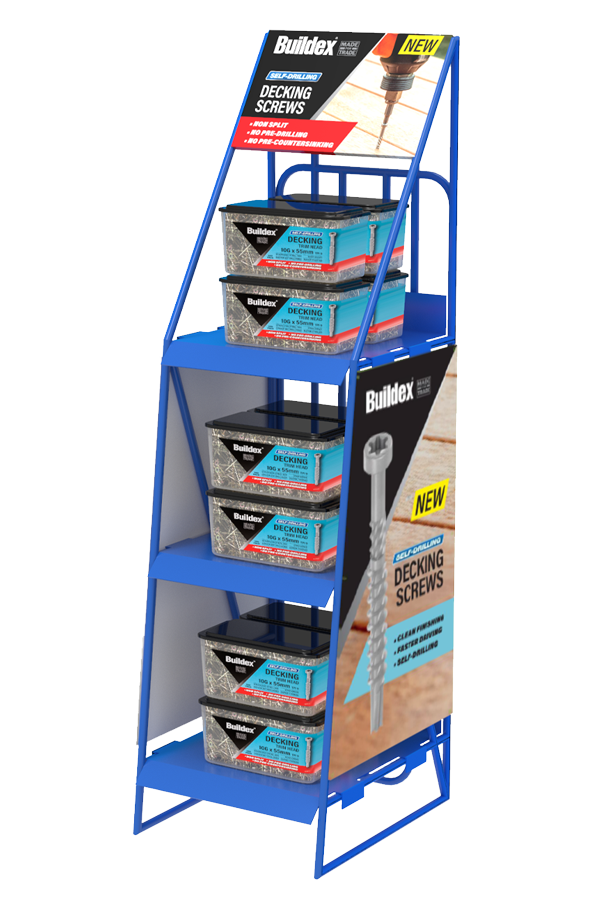 TRADE STANDS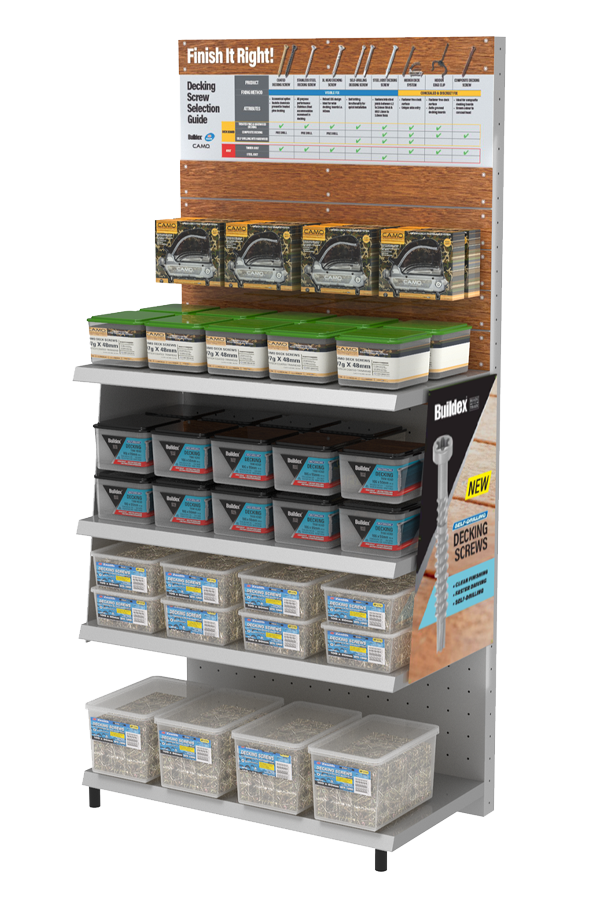 DENSE ENDS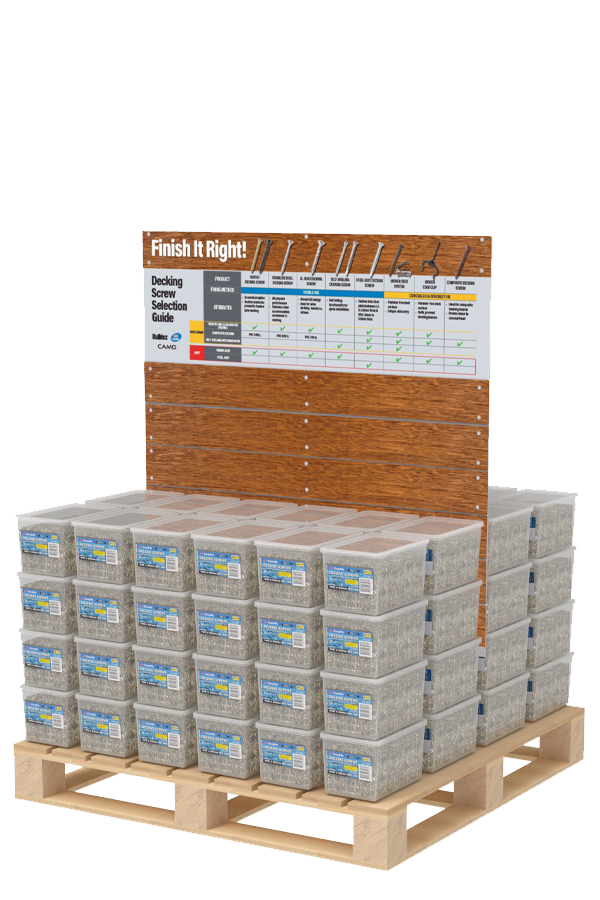 PALLET STACKS
COATED DECKING SCREWS
For the more budget-conscious builds, Buildex® Climacoat decking screws are a great choice. Featuring a 10-gauge body with an 8-gauge head, they can be used to fix treated pine and hardwood to timber joists. Quick and easy to install with maximum holding power, these deck screws along with their unique coating resist the corrosive effects of treated timbers. Now available in black for a distinguished look.
SELF-DRILLING DECKING SCREWS
If quality and speed are the focus, you can't overlook self-drilling decking screws which eliminate the need to pre-drill and pre-countersink. Manufactured from Stainless Steel to accommodate deck board movement, Buildex® Self-Drilling Decking screws not only provide a quality finish but also offer speed and convenience so you can get the job done right.
There is no need for pre-drilling or pre-countersinking with the Zenith Quickshot™ self-drilling, stainless steel decking screws. Manufactured from 304 grade Stainless Steel for superior corrosion resistance, Quickshot™ features a square drive & a thicker 12-gauge body, meaning they'll perform well & save you time during installation.
Zenith Self-Drilling Type 17 Decking Screws are specifically designed for decking applications and can cope with the expansion and contraction that can occur in decking boards. Featuring 304 grade Stainless Steel for superior corrosion resistance, get the job done right with Zenith.
XL HEAD DECKING SCREWS
Wider decking boards (140mm) are more prone to movement and cupping, increasing the pressures placed on the fastener securing the board to the joist. These increased forces have the potential to compromise smaller gauge screws shortly after installation. To combat this issue, Buildex® XL Head decking screw are a heavy duty 12-gauge construction offering a stronger and more secure deck structure.
STEEL JOISTS DECKING SCREWS
With timber shortage in construction, trades are turning to steel as an alternative. This is also the case with deck construction as steel joists offer not only a cost-effective alternative to timber but also offer superior strength, ease of use, fire and termite resistant qualities. Suitable for fixing treated pine, hardwood, and composite decking to steel joists, Buildex® Dec-King Steel Screws offer hassle-free self-drilling functionality.
HIDDEN DECK FASTENING SYSTEM
The CAMO® Hidden Deck Fastening System allows the construction of a beautiful, fastener-free deck surface. Providing a distinctive side-angle entry that secures solid or grooved deck boards directly to the joist, reducing board movement and allowing the screws to be hidden. CAMO MARKSMAN™ Pro Tools feature a clamping mechanism to grip the deck board and dual screw guides that enable both sides of the board to be easily fastened for a side-angle entry.

NEW! Self-Drilling Decking Screws
The new decking screw from Buildex incorporates several design features that delivers optimum performance for self-drilling.
Available in: 10-8 x 50mm, 10-8 x 65mm

NEW! Black Decking Screws
With the movement towards dark accents and streamlined details in residential buildings, the release of Buildex's new Black Decking Screws is both timely and clever.
Available in: 10-9 x 55mm, 10-9 X 65mm