When it comes to decking screws, it's not just about quality and longevity – good looks matter too. The new Black Decking Screws from Buildex tick all the boxes.
With the movement towards dark accents and streamlined details in residential buildings, the release of Buildex's new Black Decking Screws is both timely and clever.
Builder Darren Brown of 1Decks, has been working in carpentry and decking for almost 20 years and says that he has never been busier than the last 18 months as Australian homeowners look to update their exterior spaces, instead of taking their usual overseas trips.
"No one is taking holidays," he says. "They are all renovating instead."
Brown is a big fan of Buildex products, and has been using the existing stainless steel decking screws for the past few years. He has been trialling the new Black Decking Screws with recent projects and thinks they will be very popular with his customers.
Matte black finishes has been a key trend for some time in interior design, but it's a style and look that has moved to exteriors, including guttering, trims, door hardware and hinges.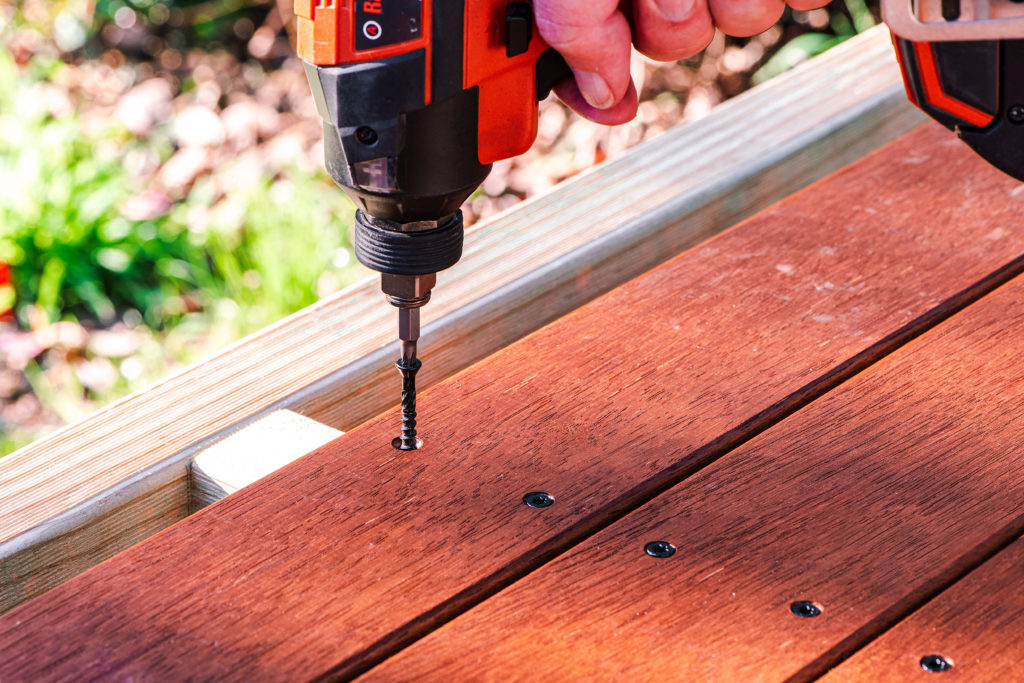 "When we do storage units or bench seats with lids, some people are now opting for matte black hinges and locks," explains Brown. "Sometimes it can be jarring if everything is matte black and then you've got those stainless steel screws fixing everything off. These new screws give you a really good alternative."
Brown says the Buildex screws are great because of their T20 star drive, which almost totally eliminates stripping. He previously used the square drives, but changed to T20 star drives about five years ago and hasn't looked back.
"With the square drives I reckon you would probably snap about three bits in a 20 sqm deck," he says. "And a lot of time they would snap in the screw and you can't get it out. However, I think I've snapped one T20 Star bit in five years. They are so much better."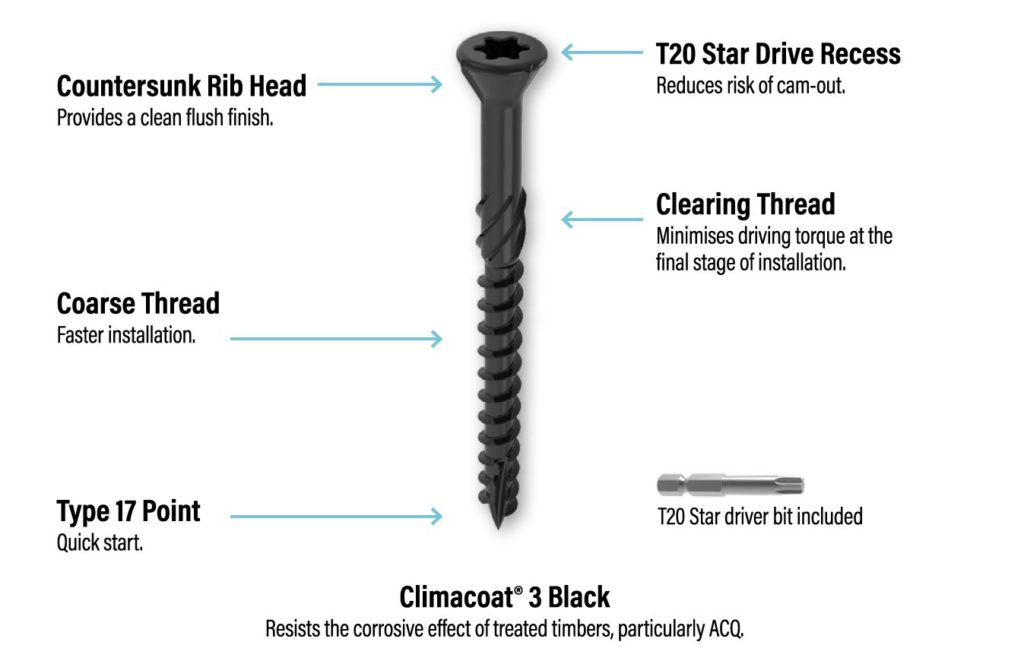 The new Black Decking Screws have a reinforced head and larger shank to provide greater strength, making them suitable for fixing hardwood or treated pine decking boards to softwood and hardwood floor joists. The clearing thread minimises driving torque at the final stage of installation. It also features a coarse thread for faster installation and a Type 17 point, which allows a quicker pick up.
The black screws also have a Climacoatâ 3 finish to provide protection against corrosion in treated pine such as ACQ, which is a common softwood used in most general outdoor applications, including decking, pergolas, trellises, lattice, fencing, pickets as well as outdoor furniture.
Brown says that during his trials with the new Buildex Black Decking Screws, he really worked them hard, trying to deliberately strip the colour when using them for decking, something he would not normally do. He says that the colour remained despite his efforts.
"I found the colour was quite embedded inside so they're really good quality decking screws," he says.
Aesthetically, the decking screws tick all the boxes, including a countersunk rib head for a clean, flush finish.
Brown predicts the new fixings will be ideal for carpenters, builders and landscapers, allowing them to balance quality performance with the good looks demanded by their customers.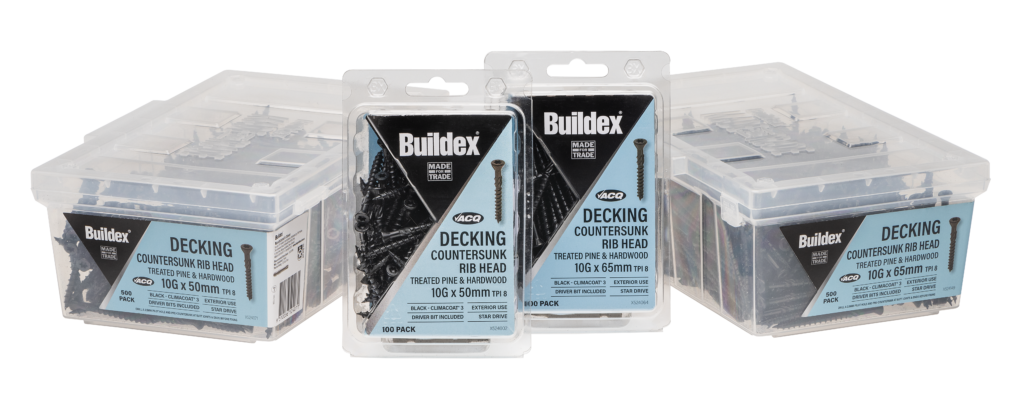 WORDS: Lynne Testoni