The Ramset™ Masonry Screw should be a staple in your toolbox. With its multi-purpose features, the Masonry Screw is an ideal solution when fixing into substrates such as concrete, brick (both hollow and solid) and stone.
We know that time on site can be limited so working with hardware that is easy-to-use, quick to install and allows for flexibility in applications were recognised when we bought the Ramset™ Masonry Screw to market.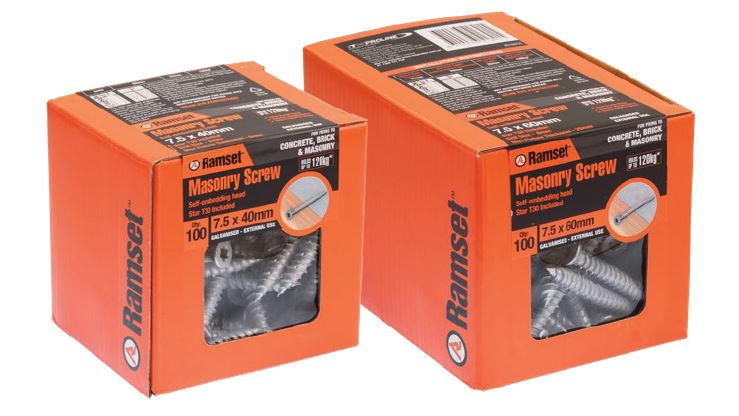 With the tradesman in mind, the Masonry Screw delivers a seamless experience, as it can be used in close-to-edge fixing (minimum 60mm) as well as close-to-anchor fixing (minimum 35mm). It is 100% removable creating flexibility during and after construction and it can self-embed into timber fixtures.
Furthermore, with its Mechanical Galvanized Class 3 properties, the Masonry screw is ideal for both internal and external applications – allowing for moderate levels of airborne pollution whilst minimising the effects of corrosion.
In each box of Ramset™ Masonry Screws, you will receive one drive bit to ensure you have the right components for the job.
Perfect for fixing into timber battens, metal brackets, fixtures, metal plates, hinges plus door and window frames, the Ramset™ Masonry Screw will have you covered for a variety of jobs.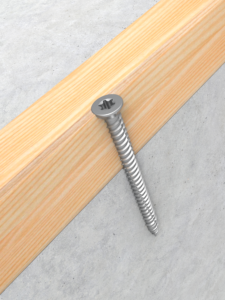 All Key Features:
Easy installation (the rotation setting method is subject to low expansive pressure that doesn't burst the substrate)
100% removable
Close-to-edge fixing (minimum 60mm)
Close-to-anchor fixing (minimum 35mm)
Mechanical Galvanised Class 3 (for both external and internal applications)
Flat, shallow countersunk head allows use in both countersunk and non-countersunk applications
Self-embedding into timber fixtures
Star T30 drive (one drive bit included in each box)
6mm pilot hole required
Holds up to 120kg (maximum load in 25MPA concrete)
Choose the versatile & dependable Ramset Masonry Screw for your next project. Available now for purchase at your local hardware store.
Established in Australia sixty years ago, Ramset™ has built a strong and enviable reputation for developing, manufacturing and supplying the building and construction industry with leading edge drilling, anchoring and fixing products.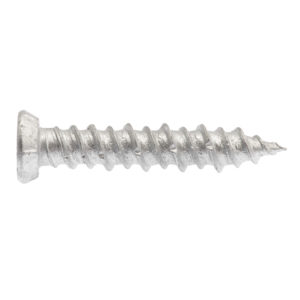 The Ramset™ comprehensive range includes:
Powder and Gas Actuated Fastening Systems
Power Tools
Chemical Anchoring
Construction Chemicals
Fire Protection Systems
Mechanical Anchoring and Screws
Cable, Pipe and Conduit Fixing Systems
Ramset™ prides itself in its commitment to quality and its position as a motivated and progressive company dedicated to the highest standards.