A new deck can make a world of difference to the look and feel of your home,  but it's also important that your deck is built to last and withstand the tough Australian climate, using durable and efficient products that are designed to last.
James Denton recently undertook the task to rebuild his existing deck. It was important to the family that their deck was built safely and would be enjoyed for many years to come.
The original deck had decking boards that were nailed in and over time, the nails were coming up – creating a hazard for the family. Although James completed various interim solutions to fix the issue, it was ultimately decided for a complete overhaul of the back deck.
Not only was it an opportunity to have a safe and functionally sound deck, but it also allowed the space to be modernised and serve as an area to entertain and relax.
Using treated pine for the frame and 140mm Merbau boards for decking, James chose Buildex® Landscaping Screws to secure the outside boards to ensure it was all square before laying the new boards. "The landscape screws are very strong and after using them for previous projects, I knew it was perfect for what we needed".
To secure the decking boards down, James opted for the new Buildex® Self-Drilling Decking Screws.
"It was my first time using the Buildex® Self-Drilling decking screws and now that I have used them, I will use them forever. Saving time not pre-drilling and changing drills was a massive time saver." explains James.
Buildex® Self-Drilling decking screws live up to its name. This new decking screw incorporates several design features that deliver self-drilling non-split properties, speed, and ease of installation – resulting in a beautiful finish and giving you valuable time back.
"I mostly did this project on my own, so I had to lay all the boards after work and on weekends while juggling kid commitments. Having a time saver in the self-drilling screws was so helpful and made the project finish time much better!"
Finishing off the deck, James opted for an Intergrain natural oil to show off the natural beauty of the timber. The results truly speak for themselves. An oasis in his own backyard that James and his family can enjoy for years to come.
View the amazing results below.
BEFORE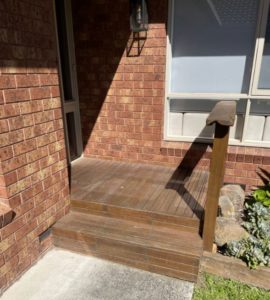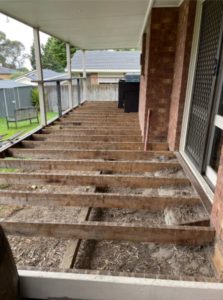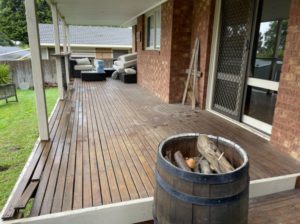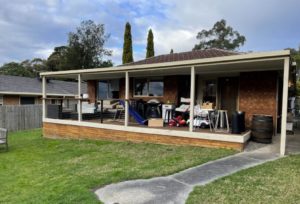 AFTER